Anders Eriksson
View Profile
| | | | | | |
| --- | --- | --- | --- | --- | --- |
| Time [s] | 100 | 200 | 300 | 400 | 500 |
| Nr of datapoints | 6040 | 12082 | 18124 | 24164 | 30205 |
| Hz | 60,41 | 60,41 | 60,41333 | 60,41 | 60,4 |
At a set frequence of 60Hz the FPGA overshoots the measurement with .41hz. For a 25 minute experiment as above this means an extra 10.25 seconds.
The histogram plotting the time differences in the data collection from the FPGA showed that an absolute majority of the data was collected with the set frequency, 60hz. There were a few outliers from these 16ms and to find out if these spikes occurred with any kind of pattern I plotted the time differences over time. While the increases seems to appear seemingly random, most time diff increases also seem to be accompanied with a time diff decrease.
Periods without laser has more data collection points
The optomotor stimulus consists of a striped arena with panoramic vertical stripes rotating horizontally around the vertical, or yaw axis. Depending on the spatial wavelenght (or spatial frequency, SF) the fly's optomotor response (OR) is changing supposedly to reach a maximum between 20-40°
(with a pattern motion of 0° ) . As the panoramic stripes are rotating a tethered fly will actively steer in the direction of the motion. After its maximum the OR gradually decreases with an increasing spatial frequency to finally reach 0 around 9.6-6.3°. A tendency to negative/reversed OR has been observed as the SF reaches 6.3°.
This experiment has been shown before in 1976 by E. Buchner, Elementary movement detectors in an insect visual system. Bioi Cybern 24:85- 101, Figure 8 page 93. Attaching Figure 8 as a reference.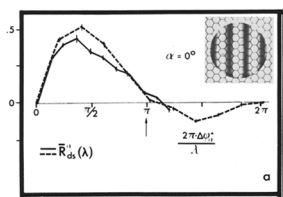 The projector we are using is not an LCD projector. It is a DLP projector with a RGB LED light engine using a digital micromirror device to project the image. I used the GUI to access the LED driver control which allows you to project each LED individually or in combination. Forcing it into manual mode changed the way the projector displayed the colors. The projector takes in our case as input 24-bit RGB data at a frame rate of up to 120-Hz. The 120-Hz value is the upper limit of the projector and is only allowed using HDMI 2.1 cables. I am fairly sure that is not what I am using, but instead a standard HDMI allowing 60 Hz. This frame rate is composed of three colors (red, green, and blue) with each color equally divided in the frame rate. So using 120 Hz would allocate about 2.78 ms for each color, as we are using 60 Hz this number would be closer to 6 ms, the flickering I saw earlier is most likely a result of this.
However, accessing the manual mode of the LED driver control allows you to turn on the colors in pairs (or in 3 if using RGB). This got rid of the flickering