Anders Eriksson
View Profile
Colors have been implemented in the projector. It has been difficult to evaluate due to some bugs in the code:
The program remembers the most recent color and is not returning to a white background when switching between different colors.
Only striped pattern seems to be implemented?
These issues have been addressed Johann Schmid and he will update the program accordingly.
The color learning is working as it should. It is changing the color accordingly to the set pattern. Laser is also implemented correctly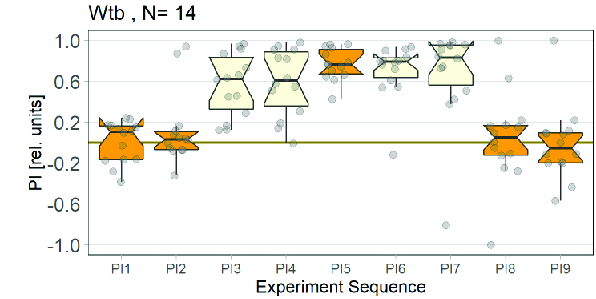 Each period is set to 120 seconds, meaning that the flies are getting a total of 8 minutes of training. The flies are performing two initial pre-tests, one test after 4 minutes of training and two final test periods. For the entire duration of the experiments flies are given a color indication if they are being punished or not as a result of left or right turning, this is a composite learning control. For the final test periods the colors have been removed, meaning that we are isolating the operant component. This is different from the previous tests that has been done where flies were not challenged with colors but just relied on their own behavior to determine which side is being punished. A removal of the helping colors resulted in a lack of preference for left- or right-turning maneuvers.