on Thursday, September 7th, 2023 2:16 | by Björn Brembs
I now switched the sign of the Optomotor Asymmetry Index in flies that were punished on producing right-turning torque, such that weaker punished torque shows up as a positive index. After that was done, I plotted the correlation between the optomotor index and the preference index: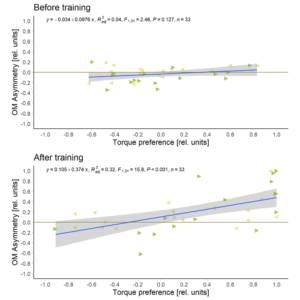 I had to get rid of eight flies where the optomotor response was already asymmetric before the training started, so now I only have 33 flies. But with these flies, there is no correlation before training and a very significant correlation after training.
Any suggestions about appearance of the graphs?
Would it be useful to plot optomotor and performance indices as raincloudplots next to the regressions?
This would be the complete figure:

After training 14 flies it looks as if the new setup is working as it should:
Looking at the optomotor traces more closely now that (a) we know that motor neurons are the only site of plasticity and (b) we routinely record optomotor behavior after training, something very interesting appeared when comparing flies that have been trained on one turning direction with flies trained on the other side:
Flies trained to avoid right turning show reduced optomotor response to the right and vice versa! The weaker effect for 'left' may be due to the weaker learning in this group?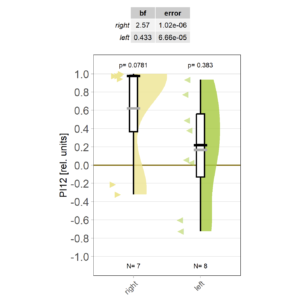 Anyway, I have never seen this and find it quite exciting!
The old software is installed with the new hardware and I'll be testing the new software in parallel to experiments with the old software. Technically, everything seems to be working now, but the first six flies I tested did not show learning after training:
However, avoidance looks fairly ok, only the last training period gives away that something still isn't quite the way it should be:

So I'll go ahead and train a new batch of flies this week. I'll focus on training/avoidance and make sure it is perfect, before I shorten the training.