on Friday, May 26th, 2023 5:04 | by Björn Brembs
After training 14 flies it looks as if the new setup is working as it should:
Looking at the optomotor traces more closely now that (a) we know that motor neurons are the only site of plasticity and (b) we routinely record optomotor behavior after training, something very interesting appeared when comparing flies that have been trained on one turning direction with flies trained on the other side:
Flies trained to avoid right turning show reduced optomotor response to the right and vice versa! The weaker effect for 'left' may be due to the weaker learning in this group?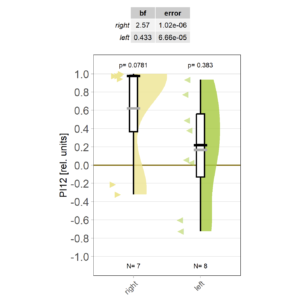 Anyway, I have never seen this and find it quite exciting!
Category: Operant learning, Optomotor response