on Monday, June 11th, 2018 12:45 | by Naman Agrawal
Comparison between White 1 ( Control (NorpA- UAS Chrimson)) and Yellow 1 (Positive Control ( Gr28bd-G4, TrpA1-G4).
To test whether the flies are really blind, and there is no problem with the NorpA part of the construct, we compare with NorpA,UAS GTACR1 ; NorpA,UAS GTACR2 ; and another stock of NorpA-UAS-Chrimson.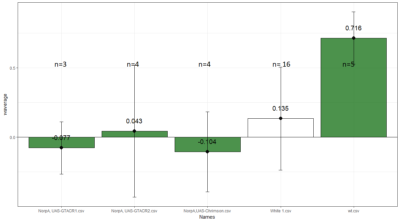 Weighted mean is calculated by multiplying the weights (total number of flies in that experiment/total number of flies in all the experiments) with the PI for that experiment, and taking the sum thereafter for all the experiments.
Category: genetics, neuronal activation, Optogenetics, TrpA