on Monday, November 27th, 2017 2:43 | by Christian Rohrsen
So this is the final graph assuming that 20Hz is the sampling rate. Sathish was not sure what it was and he said he will check.
To have a better overview how the length of the flight compares with the slope obtained from the SMAP. There is no big correlation whatsoever with around 100 flies. Sathish found this in his thesis with data from seventy something WTB, but to me it seems like an anecdotal result.
Here the same as above, just for showing the fit line.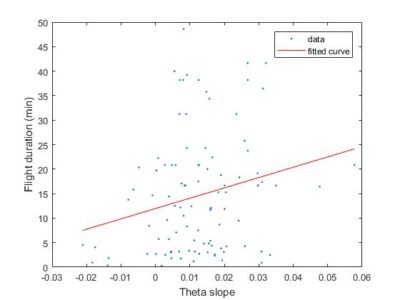 Category: flight, Spontaneous Behavior, strokelitude, WingStroke